"The mission of Speech Solutions, Inc. is to provide speech and language needs with integrity and accountability in the communities we serve, to give back through community service and to inspire moments of optimism and happiness while creating value and making a difference."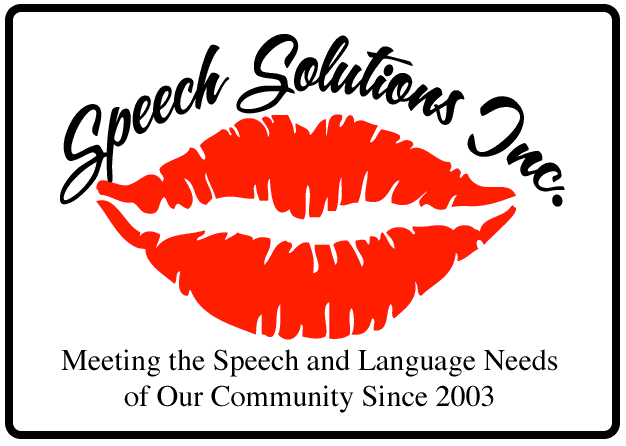 Success Stories:

At Speech Solutions, we know that our success as a company is measured by the personal success of each one of our clients. That's why we strive to provide the best possible care to each and every one. Here are just a few of the ways we've been able to help improve the lives of our patients.
Because of a Speech Solutions therapist…

…a woman with a debilitating brain injury has regained her independence:

Recently one of our therapists saw a patient who had suffered a TBI (traumatic brain injury). The injury caused severe problems in almost all areas of communication: thought processing, understanding speech and producing speech. For the first five weeks, the patient could not speak at all. Other therapy agencies likely would have given up at this point. But our dedicated therapist continued to work with this patient regularly. After 8 months of therapy, this patient is now able to speak in clear sentences again and express herself to others. She has regained much of her independence again thanks to the dedication of a Speech Solutions therapist.
…a child who was barely able to speak is now an Honor Roll student:

A.D. was saying less than 5 words at age 2. A Speech Solutions therapist began working with him 2-3 times per week. Over time, he began to make slow progress, saying more words and producing more sounds. After about a year of therapy and slow progress, our therapist recommended to A's mother that he see an ENT for a possible hearing problem. Sure enough, our therapist's evaluation was correct - he had fluid in both ears, hearing loss, and qualified for surgery. After receiving ear tubes, A's speech took off faster than ever before. Our therapist continued to work with him, encouraging his participation in preschool and putting an IEP (Individual Education Plan) in place to help with his success. As A progressed in school, our therapist collaborated with educators and other school administrators to keep A on the right track. She continued to work diligently with this patient for years, until the time he was eight years old and no longer required therapy. He is now a successful student on the B honor roll!
…a child with no social skills has learned to build relationships with his peers:

L was diagnosed with Asperger's Syndrome, a form of autism that makes it very hard for kids to interact socially with others. Though L was academically gifted, he had no social or pragmatic skills and was not able to interact with his peers or make friends at school. After a year of therapy with Speech Solutions, Inc., L gained valuable social skills, boosted his confidence, and joined the debate team for his middle school. Teachers and family report that he is now interacting socially at school and attended his middle school dance....with a girl that he asked!
…a cancer patient with a feeding tube is able to eat normal food again:

R was a stage 4 throat cancer patient. He was released from doctor's care cancer-free after extensive daily radiation/chemotherapy, but was still on a feeding tube. He was encouraged to swallow and gradually increase his nutritional intake, but Allison was called by R's caregiver when it became painful and difficult for him to swallow his food. After Allison conducted a bedside swallowing study, it was found that R had moderate dysphagia – a swallowing disorder. Allison made the proper referrals to his oncology doctors and R began speech therapy at home. After 4 months of consistent therapy to increase safe swallowing R is now able to eat normal foods. R and his caregiver are very thankful to Allison and Speech Solutions.
…a student with severe disabilities is now on his way to college:

T.O. was a second grader with cerebral palsy. He was nonverbal, in a wheelchair and was unable to eat regular foods. Allison worked with T.O daily, increasing his oral motor skills and working with his tolerance of different textures of food. Over a period of 8 months, T.O. increased his overall lip and tongue strength, and his motor skills improved to the point that he could eat normal table foods. Allison worked closely with his physical therapist, and with consistent physical therapy and continued speech therapy T.O was able to feed himself at school with little assistance. Allison also evaluated T.O.'s expressive skills and arranged for Ja Medlicott, an augmentative communication specialist from Wilmington, to meet with T.O and his mother. After several sessions with Ja, Allison and T.O., it was decided that T.O. would benefit from a Dynavox (a device that aids in communication). At that time the average cost for a Dynavox was $5,000.00. Allison actively raised 4,500.00 for T.O. to be able to purchase this device. Once T.O. obtained his device, Allison worked with representatives from Dynavox to ensure that proper training was given to T.O. and his family. Today T.O. is a senior in high school able to express himself with the help of his augmentative communication device. He plans to attend community college after graduation.
…a child with no ability to communicate has found her voice:

At 2 years old, G was completely nonverbal. After several months of therapy and a referral for ear tubes from one of our skilled therapists, G is now making progress by leaps and bounds and really talking, not even one full year later.
…a once silent young student is now a class leader:

A.J. is a beautiful little girl who just finished a year at HeadStart and who will be entering kindergarten in the fall. She came to HeadStart as a four year old last fall. A.J. did not pass the speech screening because she gave absolutely no verbal responses. She passed the hearing screening and appeared to receive information well auditorially. She did not speak at all in the classroom. Her teacher was quite concerned and was quick to ask questions about how she could encourage her to talk. Her mother indicated that even though she "could" talk, she also spoke very little at home. Following an evaluation, therapy was initiated. Rapport was easily established in a one-to-one therapy situation and she soon began to talk but would quickly stop if anyone entered the room. As she became more comfortable she would also talk when the door was left open. From there we began to have quiet conversations in the hallway as we walked to and from her classroom. Slowly, others were recruited and she began to relay messages for us. The next step was to introduce a friend into our therapy session as a tool to broaden her confidence as a speaker. A.J.'s teacher was terrific. She enlisted A.J. as a helper and soon as a class leader. A.J. is now a bubbly and even loud class participant. Our success was confirmed at the "graduation" program last week. A.J. and her therapy friend were the first to loudly and enthusiastically share the poem that they had learned before a room full of parents and friends. Then as a wonderful surprise, A.J. sang a solo part in one of the class songs. We all cheered with joy for her delightful new "voice".
…a bright young girl has successfully overcome a stuttering problem:

J.L. has just finished two years in the HeadStart program. She was referred for a speech evaluation just after she began the program by her grandmother who had concerns that she stuttered. Since there was a family history of fluency issues, her grandmother was very aware of the difficulties caused by this problem and was seeking early intervention for her. J.L.'s family had managed her fluency issues well in that she talked a lot and was not deterred by the repetitions that riddled her speech. They were eager for any suggestions to help her become more fluent. Following an evaluation, therapy was initiated that focused on smooth, easy speech and not on her dysfluencies. Smooth, easy, fluent speech was initially established in controlled speaking situations then gradually broadened to unstructured conversational speech. J.L. still talks a lot and is now fluent. Following a check in the fall, to be sure that the transition does not disrupt her fluency, her therapy may be complete.
…a once struggling student has overcome articulation problems and is now in a Gifted reading program:

Franklin was a bright, talkative, fun 4-year old who loved to play. As his speech developed, his parents noticed that he was having trouble pronouncing certain sounds, a problem referred to as an articulation deficit. He became increasingly difficult to understand and often had to repeat himself to be heard. Soon his parents noticed that Franklin was reluctant to speak and would often substitute words to keep from making articulation mistakes. Troubled by the negative impact this speech problem was having on Franklin, his parents sought help from a Speech Solutions therapist to work with him on his articulation. After 4 years of therapy with one of our dedicated therapists, Franklin's speech is now 100% intelligible and error free! He has gone on to enter the AIG (Academically/Intellectually Gifted) program for reading at his school and is successful both socially and educationally.


Straight from the kids:

Why do you like speech? "Because I like you! It's fun!"
What is your favorite thing about speech? "You talk and learn and know your colors!"
-4-year-old Michelle to her therapist
....Even more Testimonials
Speech Solutions, Inc. sets the standard for educational contracted services related to speech and whole child needs. Allison and her staff are professional, dependable, and easy to work with. They put the needs of all students at the forefront of their work. They are a tremendous asset to partner with.
Dr. Kenneth L. Bowen
Vice President of Achievement for All Children
Director of Southside-Ashpole Elementary School
​
She has been helping us out at Liberty Commons...she is very professional and sweet....we love having her.
Tara Brisson Birchall
"I always love to see Caroline coming through our door and more importantly... My student does!!! Caroline is great with the kids and treats them all with kindness and support."
Sarah Smith
Bladen County Schools


"Caroline Wells is a fantastic speech therapist. She is kind, happy, energetic and my class loves her. Caroline makes practicing speech skills fun and I have seen major progress with the students she works with. She KNOWS her stuff!!!"

Amy Schumacher
Bladen County Schools
Exceptional Children's Teacher
​
Mrs. Joan at Speech Solutions is a wonderful therapist. My daughter is able to communicate with her words so much more clearly after working with Mrs. Joan. Mrs. Joan is a patient and sympathetic therapist who communicates with children so well no matter what their speech problems may be. We are incredibly pleased with the progress our daughter has made.
Sonya Walker
​
Around age two, it was brought to my attention that my son, Jamie, needed speech therapy. He wasn't saying any words but one word "MAMA". We were referred to Speech Solutions through CDSA (early intervention services). Stephanie is very passionate about her work. Jamie and Stephanie's relationship at first was a challenge for her but she continued to work with him
and they formed a relationship. He loves when she comes and sees him. Jamie was diagnosed with Autism after he turned two. It's slow progress with him but Stephanie is very patient with Jamie. Stephanie has been outstanding. She is everything you
would hope for in a speech therapist: patient, compassionate, engaging, warm and friendly. I am so grateful to have found such a caring therapist who truly wants to see Jamie progress and succeed in life.
Ms. Galbreath
​
I am very pleased with the care we have received at Speech Solutions and would recommend their services to anyone who needs speech therapy services.
Anonymous
​
As the teacher of a self-contained exceptional children's class, I am a bit overprotective to say the least. I love my children as my own and want to know that all who come in contact with them will treat them with the love and respect that they deserve. Mrs. Elizabeth is that person. She adores my children and enjoys spoiling them with me. She is not an employee of Bladen County Schools but one would never know it. She goes above the call of duty and when one of my babies needs her, (which they often do) for a hug or lunch buddy, she makes time to be there for them.
I am so grateful that Elizabeth Ferrell Sessions will be with us again in the 2016-2017 school year. I look forward to the enthusiasm she brings with her to our school. She rejoices in the smallest of progress and with students like mine that means the world.
Leslie Sinclair, Teacher
I am a Spanish interpreter that words for CDSA. I work with Joan and Marilyn once a week. Joan is very professional. I have also learned some things and enjoy our time together. I now understand why she returned to work after retiring. She is an asset to her work place and family. They are blessed to have her working with their children. She does her job well and the results are the proof of that.
Veronica Galindo, Spanish Interpreter, CDSA
As the director of Jamestown Day Care, I am very satisfied with the services of Speech Solutions. Speech Solutions has always provided excellent services for the children enrolled in the center over 10 years. Their employees have been trustworthy and have always acted in a professional manner. Over the years as director of Jamestown Day Care, Speech Solutions has proven that they are very knowledgeable, patient and work well with the children and parents. My staff, teachers and caretakers also know that the children are safe and well taken care of while the therapist is in charge of the children. In the future, I fully intend to have Speech Solutions continue services because I am very satisfied with the professional services they have provided Jamestown Day Care.
Brenda Jones, Director, Jamestown Day Care
​
Yo MariCarmen, recomendaría a Ms. Kay a los demás niños que tuvieran problema de lenguaje porque a mis niños les ayudó mucho con su lenguaje. Porque es una persona que tiene paciencia con los niños. Yo estoy muy agradecida con Ms. Kay porque se toma su tiempo a venir a la casa en el tiempo de vacaciones. Es una persona puntual, responsable, y es de mucha ayuda para los papas porque te da consejos de comportamiento de los niños. Es de mucha ayuda para los niños. Yo estoy muy agradecida con Ms. Kay. Los niños tenían una buena actitud sobre Ms. Kay porque su actitud de ella es muy buena
y se tiene buena comunicación con ellos. Por eso yo recomiendo a una maestra de terapia a otros papas porque ellas tienen un impacto positivo en los niños. Yo la admiro como persona. Mis respetos para Ms. Kay.
Atentamente,
MariCarmen Solano
​
​
"I have to say when I considered speech for Abigail I was a little skeptical, but I said I would give it a try and if it did not work, I could stop at anytime. Well I have to say my feelings that this would not work or help would soon be laid to rest! In one short month of only coming once a week I could see a HUGE change in my two year old. Grunts and sign language and pointing were replaced with so so many words and feelings of expression. Abigail would tell me just what she wanted and talk in short phrases!! Well months have passed and things are still progressing as they should in so many ways, she has started two year preschool and speech is really helping in that area as well with communicating with the children. As for Abigail's speech teacher, Kristin Cox, she has won my heart and definitely Abigail's from day one! Abigail has formed a bond with her that makes my heart swell because I see she really wants to see Abigail learn and succeed. That speaks volumes to me because it is so hard to find people that really truly care about others and want them to learn and grow. All I can say is Kristin Cox and Speech Solutions, Inc. are wonderful!!"
Holly Brisson
Parent
"Just wanted to say thanks for working so hard with Madison. She has come such a long way. She speaks with understanding and with so much pride. She enjoys every minute with you."
Christina
Parent
"Joan demonstrates outstanding expertise and integrity when working with families and professionals. She exemplifies excellent organizational and communication skills. During Joan's therapy sessions, I'm captivated by the strategies and techniques she individualizes for each child's needs. She always encourages family participation and provides suggestions for carry-over. I thoroughly enjoy working with Joan in a collaborative effort of meeting the needs of children and families."
Amy Yanik
Wilmington CDSA Service Coordinator
"Keitoria has been coming to Speech Solutions, Inc. several years now. Her speech has developed and improved so much since she has been attending. She started from using very little speech to now speaking full complete sentences and using a wide variety of vocabulary. By working with Jenny, she is very confident with her speech and she enjoys working with her ever visit. I recommend Speech Solutions, Inc. to any child because my daughter had a severe speech delay, but now I can truly say that by their help, her speech is getting better and better. I thank all of the staff for their hard work and dedication."
Latoya Alford
Parent
"Kaeden is showing very good improvement with everything dealing with his speech and I know if he keeps doing speech he will do much better in school."
Amber Locklear
Parent
"I am so glad I decided to Job Shadow at Speech Solutions, Inc. It was a very good experience and it helped me realize that a speech language pathologist is what I want to be when I grow up. I learned that there are many opportunities in this career field. Everyone at Speech Solutions, Inc. was really friendly and helpful. Thank you again, Ms. Allison Harrington, and everyone else for letting me have this experience!"
Betsie Miller
Job Shadow Student
"What can I can besides ya'll are awesome! Allison was a wonderful speech therapist to my grandson, Christopher. With Christopher's previous therapist, there was not any progress, so the therapist began teaching him sign language. Things changed and Allison came into the picture. The first day of therapy, Christopher said a word for her. I love the way Allison interacted with Christopher in his home environment. She got down on his level and played with him and his toys for the therapy session instead of making him sit still and listen. I knew from the beginning that Allison was the perfect fit for Christopher."
Shelly Baker
Grandparent of Wilmington CDSA patient
Dalton has been receiving speech therapy from Speech Solutions for a little over a year. Since he began he has made significant improvements. His speech is more intelligible and people find him easier to understand. Dalton looks forward to therapy with his "talking teacher." His therapist picked up on his interests and conducts therapy in a fun and informal manner with the aid of toys and games that are appealing to him. She also listens to our concerns and gives us practical answers and suggestions. We couldn't be more pleased with Dalton 's progress!
Amelia W.
Parent of preschool child & Preschool Teacher
With professional therapists and speech language pathology assistants, Speech Solutions, Inc. always meets the speech and language needs of our community. That is why Speech Solutions is a successful and beneficial asset to our community.
Jenny Britt
EC Teacher, Lumberton High School
Speech Solutions, Inc. is very involved in the community. Through their generosity and thoughtfulness, they have helped the Lumberton Jr. Service League provide support for our community in various ways. The staff is always friendly and eager to help.
Lauren Hardin
Past President of Lumberton Junior Service League
My child has been taking speech for 2 years now. Before starting speech we could hardly understand her. Now she can speak more clearly and just about anyone can understand her. Thanks to the friendly help we receive through Speech Solutions our daughter is thriving.
Julie Turner
Parent
Speech Solutions, Inc. afforded me with the opportunity to see the multiple sides of this field. I not only saw the administrative side of speech pathology, but also was able to assist with therapies and speech screenings. The staff was friendly and went out of their way to make my internship memorable and a valuable learning experience. My internship through Speech Solutions, Inc. helped me to reaffirm that I wanted to be a speech pathologist and gave me a first hand look at what this career will entail. The staff went out of their way to make my internship a valuable learning experience. I feel strongly that this experience and what it taught me aided my graduate school admission."
Kristin Brady
ECU graduate student
Allison has been more than a speech therapist to my boys. The boys look up to her. Now that the boys are in middle school, she continues to mentor their progress in all areas. She has been good to our family and she always had the best interest of my boys at heart.
Mary G.
Parent
My 13- year -old son receives services for stuttering. His pathologist has researched new methods to help him deal with stressful situations that cause the stuttering to be more profound. These methods make him feel somewhat in control of his disability and his treatment. He has individual sessions which ensure that the focus is entirely on him and his needs. I am frequently given updates and am even given handouts that help me reinforce what he receives in the sessions. My son is not introverted like most children who stutter. He is very active in school and scouts. He is an honors student. All of this is due to the coping and corrective techniques he learns from his speech sessions.
Deidre S.
Parent and educator
Speech Solutions, Inc. does all our therapy at LRDA. Jennifer Haggins is the therapist assigned to Allenton Headstart. She goes over and beyond what is expected of her. She takes the time to get to know the parents of each child she serves. She is like part of our family at Allenton. They don't just provide speech therapy! Jennifer and her co-workers have conducted free workshops on numerous occasions.
Tonya
Allenton Headstart
I can honestly say that Speech Solutions has touched my son's life in ways I thought were not possible. Their personal touch to therapy has impacted not only my son's speech, but the rest of his life as well.
Marsha Lawson
Parent
​
"As a former employee, I would like to share just how wonderful Allison Harrington and the staff are to work with at Speech Solutions in Lumberton. I worked with Speech Solutions as a Speech Pathologist for six years, and had it not been for an out-of-state relocation, I would still be there. Allison is a top-notch employer, who cares for her employees and the community, as well as the clients that are served through her agency. I appreciated the fact that she does not micro-manage, allowing the therapists to be truly responsible for their caseloads and outcomes, i.e. development of and number on caseload, as well as setting their own schedules. She trusts her therapists to provide excellent client services and gives them the tools to make it happen. The support staff is excellent as well, always willing to help in any way possible. In conclusion, Allison Harrington and the staff at Speech Solutions are second to none. If you are considering employment at Speech Solutions, rest assured that it is a great company to work for and Allison and her staff will be there to support you as you make the difference in a client's life. "
Connie Patterson, M.Ed., CCC-SLP
Former Employee
​
Today Alex met Kendrick and she was impressed with his vocabulary. She doesn't think he needs speech. I'm super excited because she was so awesome with how she did her assessment. First impressions mean a lot to me and I was impressed and could quickly tell she is a subject matter expert in her area of concentration. Please send me another Alex :-) for his Physical therapy.
​
CDSA parent