"The mission of Speech Solutions, Inc. is to provide speech and language needs with integrity and accountability in the communities we serve, to give back through community service and to inspire moments of optimism and happiness while creating value and making a difference."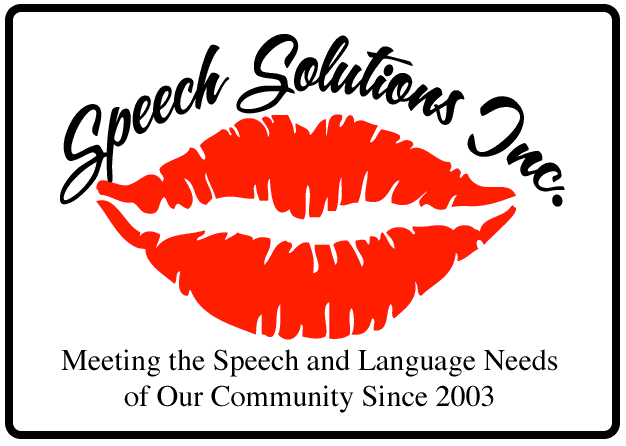 Provides Quality Speech and Language Therapy
Why

Speech Solutions

?
Speech Solutions, Inc. prides itself on meeting the speech and language needs of our community. We take this statement literally by providing services to all ages (1 to 101!), supporting early intervention, making therapy convenient for you, and serving a vast area.
We assess, diagnosis and treat our patients to help improve their speech, language, cognitive, communication, voice, swallowing, fluency and other speech disorders We also have the equipment and certified Speech-Langugage Pathologists to provide Vital Stem Therapy.
Our effort to stay up-to-date with continuing education guarantees we provide the latest fun and engaging therapy techniques. We are nationally accredited and state licensed. Speech Solutions, Inc. is owned by Allison Harrington, M.Ed., CCC-SLP.
Public Schools

Preschools

Head Start

Daycares

In-Home Therapy

Adult Day Programs

Long-Term Care Facilities

Local Home Health Agencies

Local CDSA Agencies

Group Homes
Robeson

Scotland

Columbus

Cumberland

Hoke

Bladen

Brunswick

Richmond

Moore

New Hanover
Our Clients Say it Best…
"You can't miss them, they are the "ladies with the red lips." "No las puedes confundir, son las chicas de los labios rojos."
Rosita Garcia -Parent
Speech Solutions, Inc. sets the standard for educational contracted services related to speech and whole child needs. Allison and her staff are professional, dependable, and easy to work with. They put the needs of all students at the forefront of their work. They are a tremendous asset to partner with.
Dr. Kenneth L. Bowen
Vice President of Achievement for All Children
Director of Southside-Ashpole Elementary School
​
​
"Just wanted to say thanks for working so hard with Madison. She has come such a long way. She speaks with understanding and with so much pride. She enjoys every minute with you."
Christina - Parent
"With professional therapists and speech language pathology assistants, Speech Solutions, Inc. always meets the speech and language needs of our community.
That is why Speech Solutions is a successful and beneficial asset to our community."

Jenny Britt
EC Teacher - Lumberton High School
"My child has been taking speech for 2 years now. Before starting speech we could hardly understand her. Now she can speak more clearly and just about anyone can understand her. Thanks to the friendly help we receive through Speech Solutions our daughter is thriving."
Julie Turner - Parent
​
"A child that had no social skills and barely could speak......
Where do I begin, within 6 months Isabella could speak, point to objects tell me anything verbally that she wanted. So with that being said, my baby has learned in 6 short months to say "hey" "bye-bye" "mama" "papa." Also, she tells me what she wants. Also, she interacts with her peers at daycare. Isabella's speech therapist has continued constantly to be a positive and guidance and in making a difference in my child's life. She has been non verbal but has finally found her voice. Thank you Speech Solutions and Mrs. Crystal!"
Heather Strickland, guardian of Isabella